Plentiful Interior Features and Options
The deluxe details that come with real leather and real wood will heighten your senses to every first-class joy you can envision. You rear-seat passengers will love the luxury of distinct details in addition to the spacious comfort that comes with best-in-class legroom, and a cabin that is 6.6-inches longer than the competition. With a spacious interior and commanding presence, you'll feel in charge.
The 2020 Ram 1500 features an available power dual-pane sunroof with features including a forward portion that acts as an air vent, easily opened and closed at the push of a button for your convenience. For even greater comfort, the Ram 1500 offers heated/ventilated rear seats, class-exclusive centre console, and Active Noise Cancellation to offset unwanted noise so you can enjoy conversations with your passengers and during phone calls.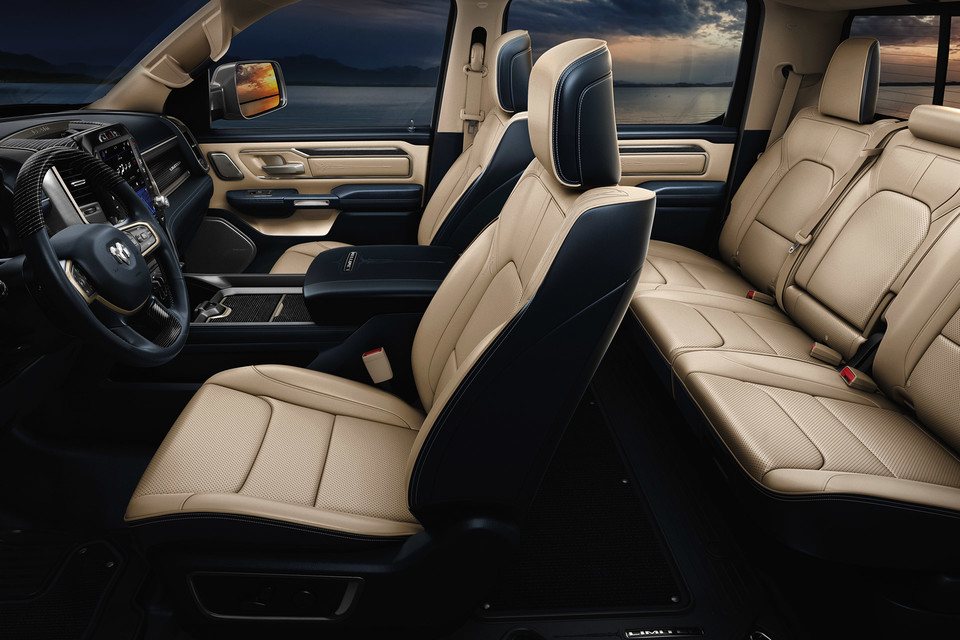 An Exterior Offering Enhanced Performance
The 2020 Ram 1500 delivers the best aerodynamic performance in its segment. Using state-of-the-art engineering and technologies, the Ram design team gave the 2020 Ram 1500 many features intended to reduce drag and increase efficiency without sacrificing aesthetic appeal. The Class-Exclusive active air dam deploys downward at higher speeds to redirect air around the truck more efficiently, while the available Class-Exclusive Active-Level Four Corner Air Suspension lowers the vehicle at highway speeds to increase efficiency.
The Ram 1500 makes getting in and out easier than ever with available power side steps for your comfort and convenience. You can unlock the truck with your key fob, simply open the door or put the truck in park and the power side steps deploy automatically to help you get in or out. Lock the doors or put the truck in gear and the power side steps automatically retract into the rocker panels for a clean appearance, reduced aerodynamic drag, and less wind noise when the truck is on the move.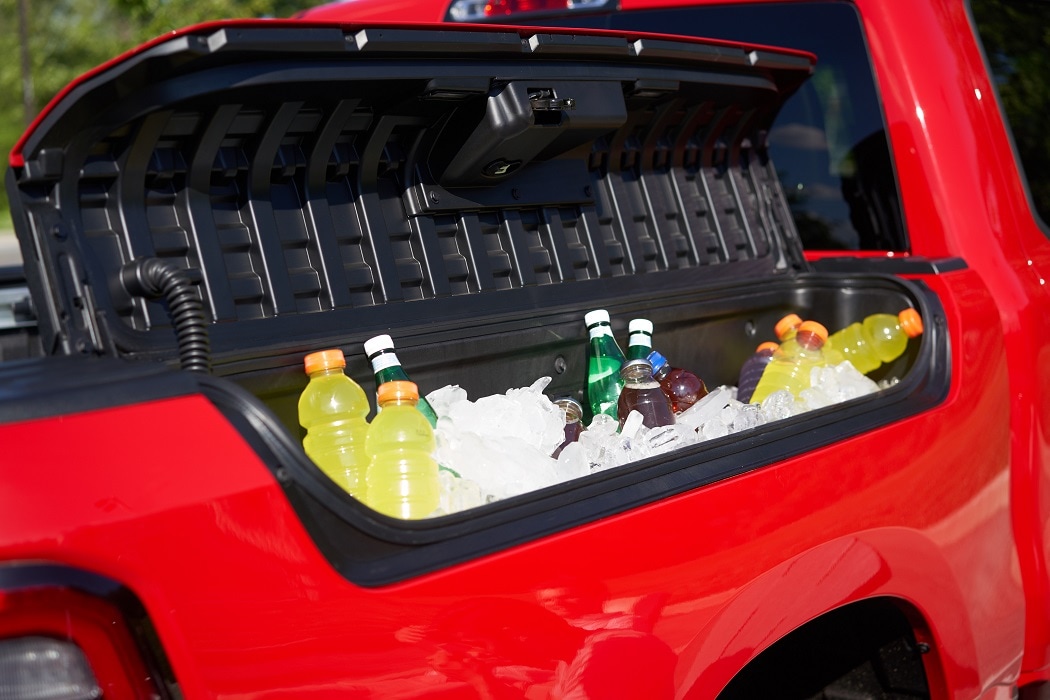 Technology And Safety Features
Dodge has your safety in mind, that's why the 2020 Dodge Ram has multiple options to ensure a safer commute including:
Blind-Spot Monitoring - alerts you to the presence of hidden vehicles in your blind spots
Trailer Detection - automatically calculates the length of your tailer to add to your blind-spot detection range
Forward Collision-Avoidance - activates when it senses a potential collision ahead
360-Degree Surround View - lets you see your Ram 1500 as if you were floating above it for a full picture of your entire surroundings
Adaptive Cruise Control With Stop and Go - so you can set your follow distance and makes adjustments dependent on the vehicle in front of you to avoid a collision in the event of sudden stops

With 4th generation Uconnect offering an 8.4-inch touchscreen display, the 2020 Ram 1500 delivers on the tech experience. As the most connected Ram ever, the 2020 Ram features available Apple CarPlay and Android Auto compatibility for direct access to your smartphone's extended capabilities, by way of the Uconnect touchscreen. By offering both services, you'll be certain to have the ease and comfort of switching between smartphones without the hassle. The touchscreen features a high-resolution full-colour display, pinch to zoom feature, split-screen capability, and the ability to configure your preferences for ultimate ease and comfort. Not only will you enjoy your favorite tunes while you drive but you'll be sure to stay connected to the world around you.
Pre-Qualify for Financing Today
At Blaikies Dodge, we want to make your new Ram purchase easy and hassle-free. Use our online tools to start your purchase online. Our finance specialists and Ram experts will then work to create monthly payments suitable for your needs. Fill out an online credit application for pre-approval, and sit back to admire your new Ram 1500 while we sort out the final details.