2021 Jeep Wagoneer in Truro, Nova Scotia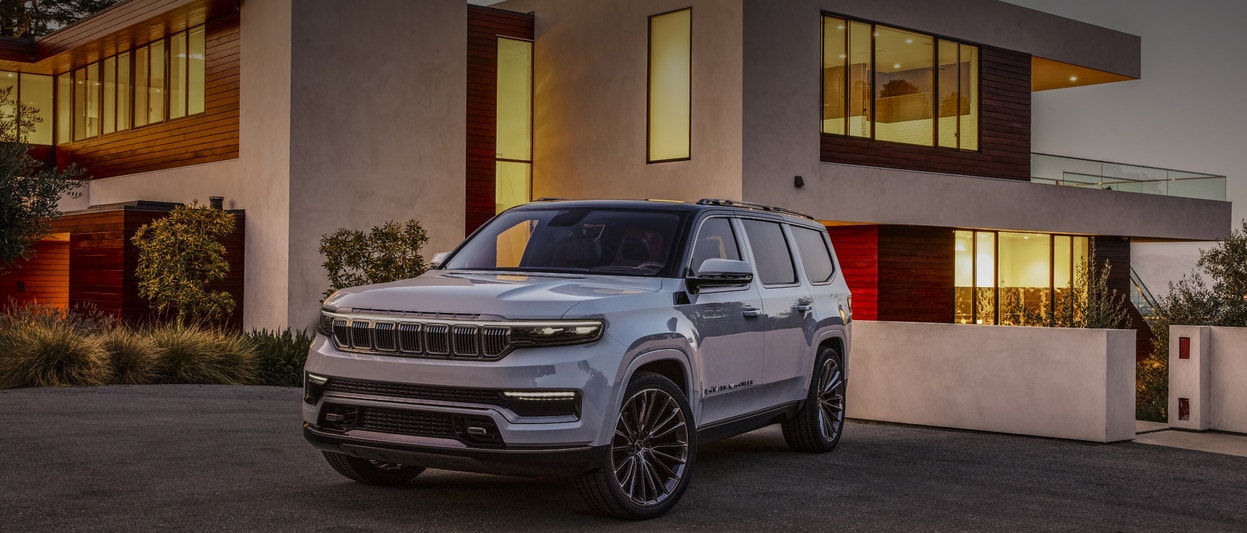 2021 Jeep Grand Wagoneer
This year, the Wagoneer, one of Jeep's most iconic vehicles, is back! Best of all, you can find the 2021 Jeep Grand Wagoneer at Blaikie's Chrysler Jeep dealership. Shopping for your next vehicle is simple and logical at Blaikie's dealership, an authorized Jeep dealer and the preferred dealership in Truro, Nova Scotia. We serve customers in the areas of Dartmouth, Amherst, Halifax, and New Glasgow. We warmly welcome you to our dealership to check out the new Jeep inventory for 2021. But even if you can't make it here in person, rest assured you'll find our extensive car shopping and car financing services online.
About the 2021 Grand Wagoneer
If a 2021 new luxury SUV is what you're after, the new and improved Jeep Grand Wagoneer is worth a look. The Wagoneer features a distinctive exterior design that gracefully combines some of the Wagoneer's top styling cues from the past while making way for modern improvements. The result a sleek, sculpted, and streamlined appearance. A glass pane roof is one highlight of the new Wagoneer's exterior, and it also has intelligent LED lighting.
Performance and Handling of the 2021 Grand Wagoneer
The 2021 Wagoneer has some differences from Wagoneer models of the past regarding performance. Now you can get the Wagoneer in an all-electric version instead of a gasoline-based SUV. The Wagoneer also includes some of Jeep's most innovative mechanical and handling technology, including a traction management system and four-wheel drive. An air suspension system on this year's Jeep Grand Wagoneer ensures a smooth and comfortable ride even as you're traversing rocky terrain. With this sophisticated mechanical system also comes an exceptional towing capacity for all your work and recreational needs.
Interior Features of The Grand Wagoneer
The Jeep Grand Wagoneer's cabin is luxurious and tech-savvy. The interior has an elegant look and feels many high-end touches throughout, including wood accent trims with metal framing and accent stitching. The interior has an overall clean and neat appearance with centrally located and well-placed controls. Leather seats and padded armrests on the front center console are just a few premium touches you will find in the Grand Wagoneer for 2021.
Technology Features of the Jeep Grand Wagoneer
The technology of the Grand Wagoneer this year is exceptional. The Jeep's safety aids include a camera with real-time imaging and other advanced safety aids to help stop accidents before they happen. LED lighting in the cabin gives it a contemporary vibe, combined with a state-of-the-art infotainment system with a 10.25-inch display screen in the front row and a separate 10-inch display screen in the back. WiFi is also onboard the Jeep Grand Wagoneer so that you can take your lifestyle on the road.
Contact Us Today!
Contact us today for more information on the 2021 Jeep Grand Wagoneer, including details on pricing and to value your trade. Feel free to apply for our online secure financing application through the Blaikie financing centre.
Make an Inquiry