2021 Jeep Gladiator in Truro, Nova Scotia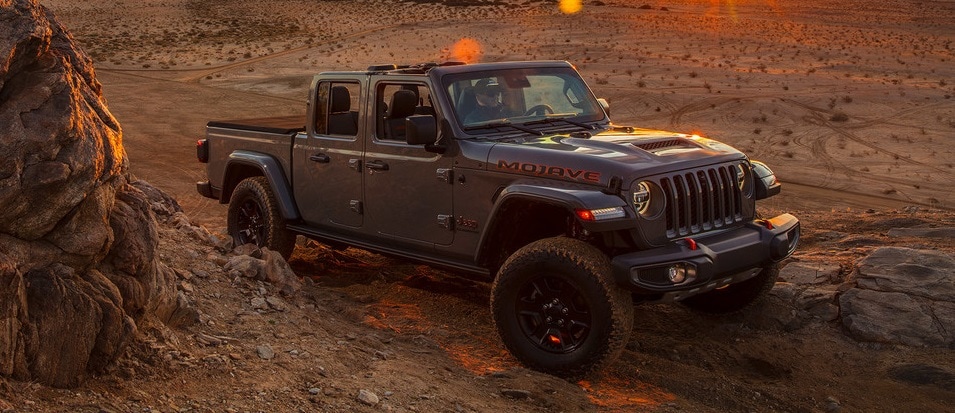 2021 Jeep Gladiator in Truro, Nova Scotia
The 2021 Jeep Gladiator is designed for everything so that you can live in the moment. The Gladiator delivers the perfect off-road capability with intelligent safety features. Its adventure spirit shines through as you tackle off-road trails with its impressive 4x4 capability. Contact us today at Blaikie's Dodge Jeep Ram Chrysler in Truro, Nova Scotia, and the surrounding areas of New Glasgow, Halifax, Dartmouth and Amherst, to schedule your test drive today.
The Gladiator is the first pick-up truck for Jeep since the Comanche got discontinued in 1992. The all-new Gladiator four-door five-passenger medium size has external and interior design hints of the Wrangler JL.
The Jeep pick-up is offered in the base Sport, mid-level Sports, luxury Overland, ready-to-walk desert racing, and off-road trim levels in Rubicon. All versions of Gladiator are four-wheel drives. A 3.0-litre turbo-loaded EcoDiesel V6 diesel engine is to be available in the middle of 2020. Check out the all Jeep inventory for the Jeep models and browse through the latest attractive vehicles in our new inventory.
Exterior Design
The all-new four-door, five-passenger medium-sized Gladiator, gets its inspiration from the Wrangler JL in the exterior and interior design. Since a pick-up is often used to carry and tow, the front grill holes got extended to improve airflow and heavy-duty engine cooling.
There are four different roof choices, including a black vinyl Sun-Rider soft top and a premium black fabric. Sun-soft Rider's top, three-piece black Freedom-Top, and three-piece Freedom-Top colour-centric hardtops include detachable aluminum roof panels.
The vehicle features completely removable front and rear doors, and the windshield can be lowered. The Gladiator is unusual since it is the only truck with a convertible soft folding top.
A front-facing trail camera, mounting in one of the front grille slots, shows a picture on the touch screen of what is immediately opposite the vehicle and helps navigate off-road, such as water fording and climbing on things such as logs and boulders.
The program "Off-Road Pages" shown on the instrument cluster enables the Gladiator driver to see angles of approach and departure, steering angles, and more.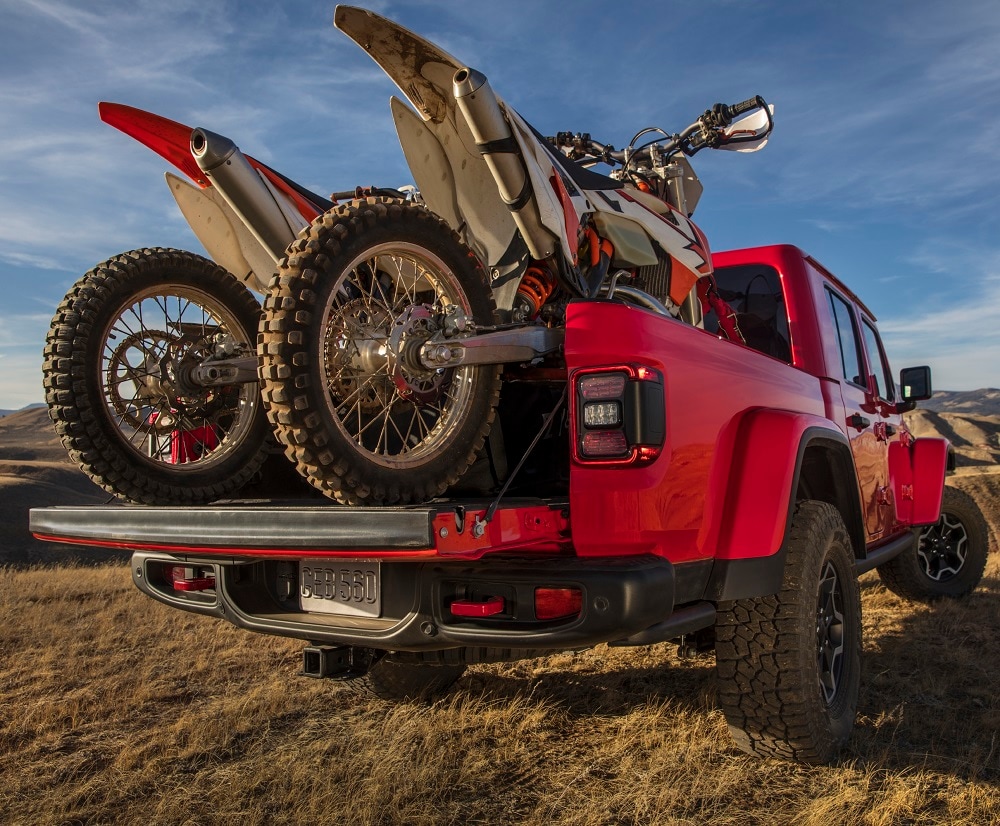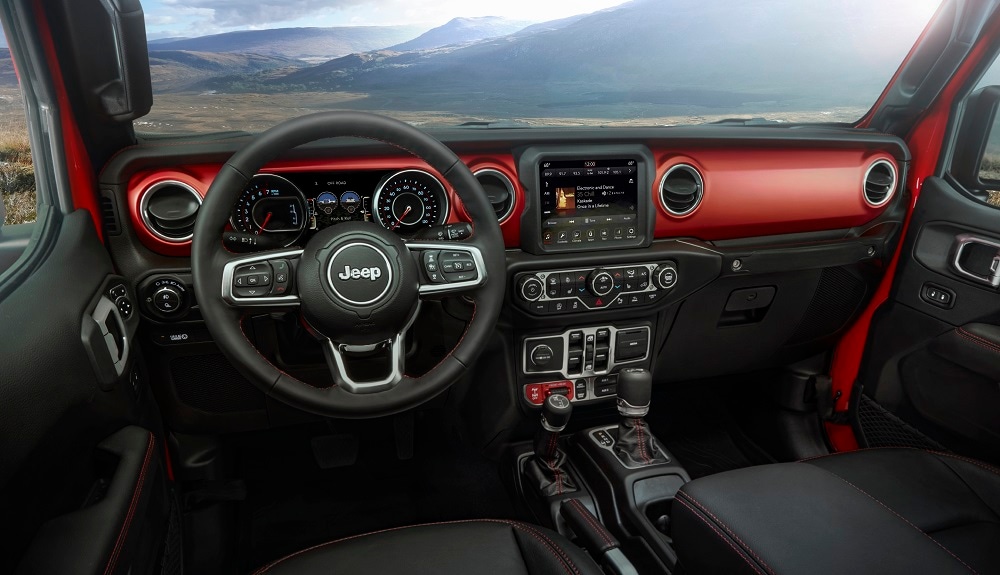 Interior Styling
The impressive interior features of Gladiator are a flat rear load floor for transporting longer and bigger goods inside the truck, safe and lockable storage beneath the rear bench seat, and the detachable Bluetooth wireless speaker that loads while the vehicle is driving.
The Gladiator has an interior design from the front seats that resembles some similarities to the Jeep Wrangler JL. The Jeep pick-up has the same dash layout, gear selector placement, 4WD mode, and hand brake.
The only change is that if you are in a car with an automatic gearbox, the Gladiator is shown as the Wrangler automatic gearbox selector instead of the Willys Jeep.
2021 Jeep Gladiator Performance and Fuel Economy
The Gladiator's standard engine comes as a 3.6-litre V6 that generates 285 horsepower and 260 lb-ft of torque. For a Jeep to earn the Trail Rated badge, that's standard on all Gladiators. A vehicle must overcome and complete a series of tests on the most challenging terrain. That means providing that it's able to withstand harsh conditions while delivering incredible off-roading capability. Jeep's new turbocharged 3.0L Eco Diesel V6 engine delivers 260 horsepower and a whopping 442 lb-ft of torque. The diesel option is available in Sport S, Overland Rubicon trims and features impressive fuel economy and capability and a 3.73 rear axle ratio. With Jeep, adventure and gear go together. That's why this pickup truck features a Bes-in-Class 4x4 payload of up to 1,600 pounds and a versatile tree-position tailgate. You can also choose the available roll-up tonneau covers and an exterior 115-volt power outlet. When properly equipped, the standard six-speed 3.6-litre Pentastar VVT V6 engine can tow up to 4,500 pounds. The eight-speed automatic transmission offered on the Sport S, Overland, Mojave and Rubicon models provides up to 7,650 pounds towing capability for more brawn.
Towing Capacity
The 2021 Jeep Gladiator has a towing capability of 7,650 lbs. This capability makes it the most extraordinary gas-powered towing vehicle in the mid-size category. Like a full-sized or heavy-duty vehicle, this maximum towing capacity is accessible under specific requirements only. You cannot thus purchase a Rubicon Gladiator and expect to tow 7,650 lbs securely.
The Gladiator Sport or Sport S will be your best option if you're searching for the greatest towing and payload capabilities. The Base Sport model has the most remarkable payload capacity, while the optional 4.10 rear axle Max Tow Package offers the most efficient towing capabilities in the Gladiator range.
The Rubicon has a standard 4.10 rear axle. However, it has a maximum towing power of 7000 lbs. The Gladiator Overland only has a rear axle of 3.73.
Technology Features
The inside of the new 2021 Jeep Gladiator has the latest technology and entertainment possibilities. The 2021 Gladiator offers everything from navigation and quality audio to Wi-Fi and smartphone connection and more.
Apple CarPlay®, Android AutoTM, three available Uconnect systems, Bluetooth, USB ports, 7.0-inch touchscreen display, HD RadioTM, Satellite Radio, and navigation sys are all integrated inside this beast.
The Gladiator for 2020 also earned 5 out of 5 to satisfy consumers. Owners mostly had positive things to report to the proprietors. Contact us through the contacts available on our website or come down to our location at 28 Waddell Street Truro, NS B2N4A2.
Request A Test Drive for The 2021 Jeep Gladiator in Truro, Nova Scotia
Contact us today at Blaikie's Dodge, Chrysler, Ram, Jeep to learn more about the 2021 Jeep Gladiator for Sale in Truro, Nova Scotia and our new inventory of Jeep vehicles. If you are interested in leasing or financing, consider applying for our secure online finance application directly through our Finance Centre.
2021 Jeep Gladiator Inventory in Truro, Nova Scotia